Speed Gun
---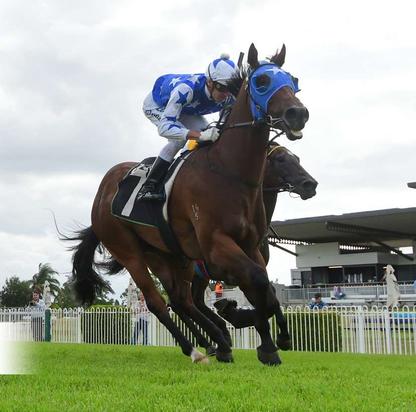 Sire: More Than Ready
Dam: Starwish
Colour: Bay
Gender: Gelding
Age: 4 year old
Foaled: Oct 31st, 2015
Country: New Zealand
---
Pedigree
SPEEDGUN (NZ)

Bay gelding
Foaled in 2015

---

| | | | |
| --- | --- | --- | --- |
| Sire | Southern Halo | Halo | Hail to Reason |
| MORE THAN READY (USA) | | Northern Sea | Northern Dancer |
| 1997 | Woodman's Girl | Woodman | Mr. Prospector |
| | | Becky be Good | Naskra |
| Dam | Redoute's Choice | Danehill | Danzig |
| STARWISH (AUS) | | Shantha's Choice | Canny Lad |
| 2007 | Stella Cadente | Centaine | Century |
| | | Temple Fire | Bletchingly |

---

MORE THAN READY (USA) (Bay 1997-Stud 2001). 7 wins-5 at 2, Saratoga King's Bishop S., Gr.1. Leading Aust. Sire of 2YOs twice. Sire of 2422 rnrs, 1778 wnrs, 192 SW, inc. More Joyous (ATC Queen Elizabeth S., Gr.1), Catholic Boy, Sebring, Prized Icon, Phelan Ready, Benicio, Roy H, Samaready, Verrazano, Entisaar, Rushing Fall, Room Service, Regally Ready, Perfect Reflection, Dreamaway, Uni, Eagle Way, More Than Sacred, Perfectly Ready, etc.

1st dam

STARWISH, by Redoute's Choice. Unraced. Sister to Starfish, half-sister to BRILLIANT BISC, Moon Fever (dam of DASHING FELLOW, AERONAUTICAL). Dam of five named foals, four to race, three winners, inc:-

Deep Image (g. by Testa Rossa). 4 wins at 1350m, 1400m, A$105,550, to 2018-19, BRC Memberships P., Family Fun Raceday H., 2d BRC Gold Edition P., L, 3d BRC Treasury Ladies Oaks Day P.

Speedgun (g. by More Than Ready). Winner. See below.

Moon Phase (g. by More Than Ready). Winner at 1200m in Aust.

On a Comet (g. by More Than Ready). Placed at 3 in 2017-18 in Aust.

2nd dam

STELLA CADENTE, by Centaine. 5 wins-2 at 2-to 1500m, A$395,165, MVRC Australia S., Gr.1, STC Tea Rose S., Gr.2, NSW Tatt's RC Furious S., Gr.3, AJC Maroubra 2YO H., STC Sir Ivor 2YO H., 3d STC Coolmore Classic, Gr.1, AJC Surround S., Gr.2, BTC Courier-Mail Classic S., Gr.3, 4th VATC Rubiton S., Gr.3. Half-sister to On Hallowed Ground (dam of AT THE OASIS). Dam of 10 foals, 7 to race, 6 winners, inc:-

BRILLIANT BISC (Elvstroem). 3 wins-1 at 2-at 1000m, A$152,350, ATC Gimcrack S., L, MRC Schweppes H., 2d MVRC Essendon Mazda 55 Second Challenge Heat H., 3d ATC Widden S., L, MRC WJ Adams S., L, SAJC WH Wylie H., L. Producer.

Starfish (Redoute's Choice). 2 wins at 1000m, A$93,497, MRC Silvermoor H., 2d VRC Maribyrnong Trial S., L, 3d VRC Thoroughbred Breeders S., Gr.3, MVRC Gillies Famous Pies H., Ready Workforce Flying H., MRC Danzero at Arrowfield H., 4th SAJC South Australia S., L. Dam of-

Wolf Cry (Street Cry). Winner at 1200m, A$207,900, GCTC Marriott Surfers Paradise Magic Millions P., 3d ATC Skyline S., Gr.2, Lonhro P., L, Breeders' P., L.

Glenbawn Dame (Shamardal). 4 wins to 1200m, A$248,075, ATC Pro-Ride H., BRC Sprite P., Ipswich TC Arctic Kiss Ice Bar Tickets H., 2d BRC Bright Shadow H., L, Lightning H., L, ATC Myboycharlie at Vinery H., TAB Rewards H., In Memory of Nathan Berry H., SCTC Karalee Park H., Yalumba H., 3d MRC Foundation H., ATC Theraces.com.au H., BRC Courier Mail H.

Moon Fever (Fusaichi Pegasus). Winner at 1100m, 3d MVRC St Albans S., L, VRC More Rain H., MVRC Owners' Gold Card Apply Now H., Caroma & Dorf H. Dam of-

DASHING FELLOW (Duporth). 8 wins at 1000m, 1400m, HK$12,917,700, to 2017-18, HKJC National Day Cup, Gr.3, Hong Kong Macau Trophy, L, Panasonic Cup, Ambitious Dragon H., Hong Kong Lions Cup, Indian Ocean H., Riding for the Disabled Association Cup, Nga Tsin Wai H., 2d HKJC Chinese Club Challenge Cup, Gr.3, Premier Cup, L, Collection H., Carnarvon H., H Moser & Cie Excellent H., 3d HKJC Flying Dancer H., Chevalier Cup, Zenith Excellent H., Shun Hing Alno H., One Country, Two Systems P.

AERONAUTICAL (Encosta de Lago). 4 wins-1 at 2-to 1400m, A$547,140, ATC Rosebud H., L, Razor Sharp H., L, Clovelly 2YO H., Men of League Central Coast H., 2d ATC Shorts H., Gr.2, VRC TAB Rewards S., Gr.3, ATC Camden Hire H., TAB Sprint H., 3d VRC Newmarket H., Gr.1, ATC Hall Mark S., Gr.3, Scone RC Ortensia S., L, ATC Kari Aboriginal Resources H., 4th NSW Tatt's RC Concorde S., Gr.3, ATC South Pacific Classic, L, MRC John Dillon H., L.

Stella Regale. 9 wins to 1400m, A$199,470, City Tatt's RC Rose of Tralee H., AJC East Hills H., WATC Colosseum H., Opening Twist H., 2d WATC Robert Dick 40 Year Membership Anniversary H., Passages Resource Centre H., Jason Whiting H., 3d STC Millennium Hotel Sydney H.

Equivocal. 5 wins to 1350m, A$89,010, SAJC Allan Scott Park Morphettville H., VRC Noel Thomas & Grant Blytham H., SAJC Tooheys New P., 3d MRC George A Davis H.

3rd dam

Temple Fire, by Bletchingly. 2 wins-1 at 2-at 1200m, 1400m, AJC Sanctuary Cove H., Douglas Smith H., 2d NSW Tatt's RC Furious S., L, 3d AJC James HB Carr S., L, STC Saratoga H. Sister to KENNY'S BEST PAL, half-sister to BINT MARSCAY (dam of BOLLINGER, MANNINGTON, SHERATON), FILANTE, EAU D'SCAY. Dam of 11 foals, 8 to race, 7 winners, inc:-

STELLA CADENTE (Centaine). 5 wins. See above.

On Hallowed Ground. 2 wins at 1200m, 1400m in Aust. Dam of-

AT THE OASIS (Desert Sun). 7 wins from 1200m to 1800m, A$192,825, Kilmore Cup, L, MRC Poetic King H., Bramerton H., 2d VRC Comedy King H., 3d MRC Theo H.

Caesars. Unraced. Dam of-

Cabrera (Falvelon). 9 wins to 1300m in Malaysia and Singapore, Singapore TC Class 5 H., 2d Penang TC Dr Lim Ah Soo Memorial Trophy, L, Singapore TC Initiation P., Class 4 H.-twice.

Pompeius (Magnus). 2 wins at 1750m, 2000m, A$111,750, 2d VRC Connoisseur S., L, 3d Sale TC Inglis Trophy.

Kashya. Unraced. Dam of-

Centella (Spectrum). 2 wins at 1200m, 1300m in Aust. and Macau, 2d VRC View 2YO H., 3d VRC Thoroughbred Breeders S., Gr.3, MVRC Silver Jubilee S., L.

Race Record: 9 Starts 1-2-1 A$29,000.

Winner at 1100m in 2018-19, Ipswich TC Kevin Keidge Memorial P., 2d GCTC $1.5m Jewel Raceday H.