Tedder Express
---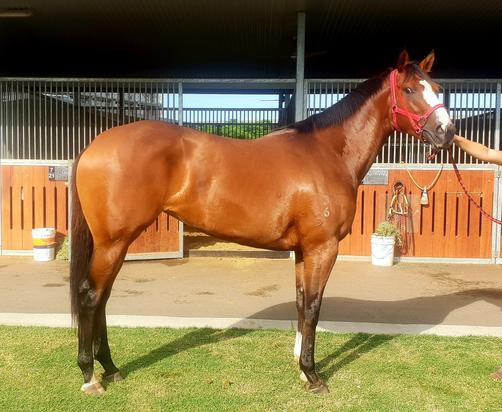 Sire: Real Saga
Dam: Tee Hannah
Colour: Bay
Gender: Filly
Age: 3 year old
Foaled: Aug 21st, 2016
Country: Australia
---
Owners
B J Gibson & Mrs K M Gibson
---
Career Record: 3-0-0-0
Prizemoney

$2,050.00

Wins

0.0 %

Place

0.0 %
---
Pedigree
TEDDER EXPRESS (AUS)

Bay filly
Foaled in 2016

---

| | | | |
| --- | --- | --- | --- |
| Sire | Tale of the Cat | Storm Cat | Storm Bird |
| REAL SAGA (AUS) | | Yarn | Mr. Prospector |
| 2006 | Windy Kate | Air Express | Salse |
| | | Kate be Good | Semipalatinsk |
| Dam | Lion Hunter | Danehill | Danzig |
| TEE HANNAH (AUS) | | Pure of Heart | Godswalk |
| 2002 | Petite Hanna | Alex Nureyev | Nureyev |
| | | Hooplahannah | Call Report |

---

REAL SAGA (AUS) (Bay 2006-Stud 2009). 4 wins at 2, STC Todman S., Gr.2. Sire of 346 rnrs, 202 wnrs, inc. SW Candelara (ATC Adrian Knox S., Gr.3), Real Surreal, Sylpheed, Real Good, Sagaronne, Secret Saga, SP Sagatona, Stroak, Epic Saga, Kirabo, Easy Drama, Choose a Saga and of Coastal Prince, Real Princess, Realing, Powerful Saga, Saga Miss, Saga of the Storm, A Day to Remember, No Problem, Outback Saga, Hot Saga, Real Mean, You Did What, etc.

1st dam

TEE HANNAH, by Lion Hunter. Winner at 1000m in Aust. Dam of nine named foals, seven to race, two winners, inc:-

Hit the Road Jack (g. by Hotel Grand). 5 wins to 1350m, A$99,750, BRC James Boags H., Channel Seven P., BMR Building Group H., 3d Qld Tatt's RC Hardy Brothers Jewellers H., BRC Gallopers Sports Club P., Skyracing.tv P., Ipswich TC Labour Day H.

Jack's Back (g. by Greenwood Lake). 8 wins from 1200m to 1650m, A$123,750, 2d BRC Driver Recruitment H., TH Cock Electrical & Communications H., St Margaret's Anglican H., 3d BRC Mount Franklin H.

Smarty Jack (g. by Real Saga). Placed at 3 in 2017-18 in Aust.

Surly Temple (f. by Hotel Grand). Placed in Aust.

Greenwood Gal (f. by Greenwood Lake). Placed at 3 in Aust.

2nd dam

PETITE HANNA, by Alex Nureyev. 4 wins at 1100m, 1200m in Aust. Half-sister to Shanghai Sky (dam of BLUTIGEROO, CATAPULT). Dam of 7 foals, 6 to race, 3 winners, inc:-

Rich Baby. 2 wins at 1000m, QTC Al Mansour H., 2d BRC Myer H., QTC Charmosa 2YO H., Riccarton H.

Lady Hanna. 2 wins at 1000m, 1100m, 3d MRC Kind Link H. Dam of-

Excelartie. 5 wins to 1400m, GCTC BMI Group H.

Tee Hannah. Winner. See above.

Fair Square. Placed at 3, 2d BRC XXXX Gold H., Brc.com.au H., 3d BRC Sky Racing H.

Borodulina. Placed in Aust.

3rd dam

HOOPLAHANNAH, by Call Report. 7 wins-1 at 2-to 1500m, A$127,250, STC Rosemount Wines Classic, Gr.2, VATC Victoria H., Gr.3, Harvie Picken H., Regent H., 2d SAJC Queen of the South S.H., L, VATC Fashion S., 4th MVRC Sterling Freeway S., Gr.2. Half-sister to HONEY GROVE. Dam of 8 named foals, all raced, 6 winners, inc:-

Shanghai Sky (Zamazaan). 4 wins from 1600m to 2200m, VRC Charles Grimes H., VATC Heatherbrae H., SAJC Sunny Sostene H., 2d VRC Cornwall H., SAJC Bright Blend H., VATC Analight H., Grace Darling H., 3d VRC Bagot H., Gr.3, SAJC Jackie Stewart H., Oakbank RC Johnston Welter, 4th SAJC John D Lee S., L. Dam of-

BLUTIGEROO (Encounter). Joint third on the 2006-07 Australasian 4YO+ Classification (long/extended). 12 wins from 1200m to 2550m, A$2,036,825, STC BMW S., Gr.1, TRC Hobart Cup, Gr.3, Canberra Cup, L, VRC Patricia Blencove & Suresh Garg H., Hilton Nicholas H., MRC Australia Post Legends' P.H., MVRC Country Cup, BTC Air New Zealand H., 2d MRC Robert Taranto H., MVRC Waterford Crystal Trophy H., 3d VRC Henry Buck's Best Dressed H., MRC JG Heywood H., Chatham H.

CATAPULT (Luskin Star). 11 wins-1 at 2-from 1100m to 2400m, A$428,458, Clarence River JC Grafton Cup, Gr.3, STC Premier's Cup, L, NSW Tatt's RC Tattersall's P., L, AJC William Inglis Flying Welter H., Qld Tatt's RC Tattersall's Open Mile, STC Citrus Flying Welter H., Thimble Welter H., AJC Lurline Bay H., STC Idlewind H., Sleigh Bells 2YO H., 2d AJC Japan Racing Association P., L, Raconteur H., Gregory Blaxland H., Windsor 2YO H., STC Wallace Cup H., 3d STC Festival H., L, Castrol Southern Cross H.

Eastern Hue. Winner at 1200m, TTC Jones Wheely Bins P.

Vautin. 7 wins to 1400m, BTC Bill Collins H., QTC 303 Icegold H., Hornick Constuctions H., 3d BTC Conrad International Hotel H.

Petite Hanna. 4 wins. See above.

Foreign Gold. 4 wins from 1200m to 1600m in Aust.

Lady Aznavour. 3 wins at 1000m, 1200m in Aust. Producer.

Love Hoop. 3 wins at 1200m, 1250m in Aust.

Handy Hoop. Raced twice. Dam of-

Cotton Fingers. 3 wins from 1350m to 1700m, BTC Stoddart Group H., QTC Dodge H.

4th dam

FARM MISS, by Agricola. Raced twice. Half-sister to Crillion (dam of SOUND OF BELLS). Dam of 9 named foals, 7 to race, 6 winners, inc:-

HOOPLAHANNAH (Call Report). 7 wins. See above.

HONEY GROVE (Roy Bridge). 2 wins at 2, QTC CE McDougall S., L, BATC Handicap.

Race Record:

Unraced.